Alle donaties zullen worden gebruikt voor deze website.
---
U kunt ook via de bank een donatie doen op reknr: P7301796 tnv
ONTWIKKEL.COM
te MAARSSEN
---
New Progress Launches Toward Space Station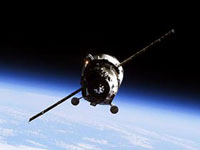 ( NASA, 18 Jun 2005 )
[ ruimtestation ] - 1822 maal gelezen.
After a busy week of preparations, the Expedition 11 crew on the International Space Station is ready for Saturday's arrival of a Progress cargo craft bearing more than two tons of supplies and equipment. Commander Sergei Krikalev and NASA Science Officer John Phillips spent the week packing up and disposing of the previous cargo ship and making room for the new ISS Progress 18 spacecraft, scheduled to dock with the Station at 7:44 p.m. CDT on Saturday. It will dock at the aft port of the Zvezda Service Module. Krikalev and Phillips devoted Monday and Tuesday to filling the departing ISS Progress 17 with unneeded equipment and trash, and closed its hatch Tuesday afternoon. The spacecraft, which had been at the Station since March 2, was undocked at 3:16 p.m. Wednesday. It was commanded to deorbit and burned on re-entry about four hours after undocking. Friday was a light duty day for the crew in preparation for the new cargo ship's arrival.
---
---

Terug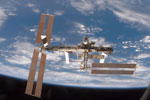 NIEUW: 24/7 LIVE STREAM
SPACE STATION WEBCAM
** SPACE.Cweb.NL LinX **
Nederlands
English
---
NU OOK SOYUZ TMA-19
ISS & SHUTTLE BOVEN NL
Foto's van Ralf Vandebergh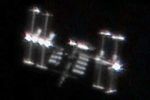 ** SPACE.Cweb.NL LinX **
Radio Amateurs HAM