Alle donaties zullen worden gebruikt voor deze website.
---
U kunt ook via de bank een donatie doen op reknr: P7301796 tnv
ONTWIKKEL.COM
te MAARSSEN
---
MGS Sees Odyssey and Mars Express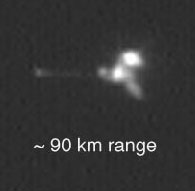 ( NASA, 20 May 2005 )
[ satelliet ] - 3274 maal gelezen.
NASA's Mars Odyssey spacecraft appears twice in the same frame in this image from the Mars Orbiter Camera aboard NASA's Mars Global Surveyor. The camera's successful imaging of Odyssey and of the European Space Agency's Mars Express in April 2005 produced the first pictures of any spacecraft orbiting Mars ever taken by another spacecraft orbiting Mars. Mars Global Surveyor and Mars Odyssey are both in nearly circular, near-polar orbits. Odyssey is in an orbit slightly higher than that of Global Surveyor in order to preclude the possibility of a collision. However, the two spacecraft occasionally come as close together as 15 kilometers (9 miles).
---
---

Terug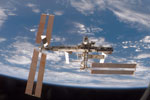 NIEUW: 24/7 LIVE STREAM
SPACE STATION WEBCAM
** SPACE.Cweb.NL LinX **
Nederlands
English
---
NU OOK SOYUZ TMA-19
ISS & SHUTTLE BOVEN NL
Foto's van Ralf Vandebergh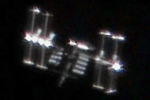 ** SPACE.Cweb.NL LinX **
Radio Amateurs HAM